This post is very late but as I always say, better late than never! So yesterday I spent in pj's and baking, and I decided to start off with a Pumpkin Pie. Never having baked a pie in my life I was a little concerned about making Pie for my family Thanksgiving so this was a practice run for me.
I often get recipes from Allrecipes.com so I followed the "Perfect Pumpkin Pie" Recipe.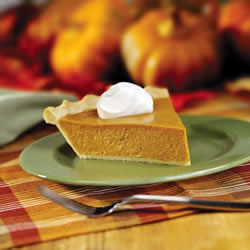 Photo Credit to Allrecipes.com
Perfect Pumpkin Pie
What you'll need:
1 (15 ounce) can pumpkin
1 (14 ounce) can Sweetened Condensed Milk
2 large eggs
1 teaspoon ground cinnamon
1/2 teaspoon ground ginger
1/2 teaspoon ground nutmeg
1/2 teaspoon salt
1 (9 inch) unbaked pie crust
So this is a really simple yet delicious recipe and here was my result:
And because this was my first attempt I ended up poking a few holes to be sure it was all the way cooked… But the good news is that it is delicious! And now I know I can make a delicious Pumpkin Pie for Thanksgiving with confidence
Do you ever have Pajama & Baking Days?
Tags
Related Posts
Share This